Just because we're all stuck in our homes this Valentine's weekend doesn't mean we can't take a trip.  Brooklyn-based underground visual performance artist Oracle666 makes her musical debut this Valentine's weekend with "Celadon Haze," a Bjork-inspired ethereal and trippy trance track about the loves who inspired but didn't cherish our hearts.  
Written and recorded  two months ago while NYC was in dark quarantine, the song is danceable, with a spritely energy, representing a hopeful fantasy world fueled by beautiful memories.  "Sometimes, we look back on connections that were once important to us and wish we could re-live them," reflects ORACLE666, a self-identified nonbinary queer femme.  "But nothing can be taken out of time and place, and we are all a part of each other as we grow and change."
Produced by Meviu§, "Celadon Haze" is being distributed by Ghostcat Media International and is available on Apple Music, Spotify and all digital platforms.
"I want people to experience a dizzying and exciting feeling of elevation when listening to 'Celadon Haze'," ORACLE666 continues from her Brooklyn home.   " I want to give that sensation that even if you are in a grungy Brooklyn warehouse, you are also in an astral cloud, emotionally and spiritually connected with everyone around you."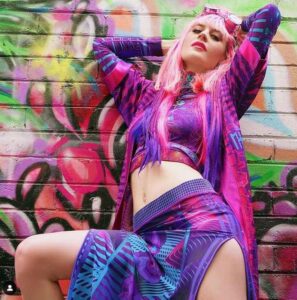 The music video depicts a contemporary queer love story in the time of COVID, with ORACLE666, depressed and lonely because of the pandemic, reminiscing over a lost love and what could have been.  Directed by Laura Kimmel, aka METAGASM,  the video was filmed at Nonbinary Studios in Ridgewood and the Refuge Arts studio in Bedford–Stuyvesant, Brooklyn.  Additional filming was done along the streets of Bushwick, as well as in the subway station and at an abandoned castle in upstate New York.
"METAGASM and I developed a story where my fantasy lover is a hologram before me, still and silent, lost in a manic pixie dream world and unaware of my song. In placing my kiss gently at the end, it's like I'm sending a wish or a poem to someone or something I never quite knew was real."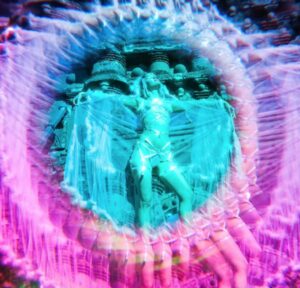 "Celadon Haze" is the debut single from ORACLE666's forthcoming EP.  "My hope is that it opens a crystal doorway into a new dimension and offers listeners a sense of spiritual cleansing. It will be something new and futuristic, peppered with nostalgia and yearning."
ORACLE666's "Celadon Haze" is available on Apple Music, Spotify and all digital platforms.