The Sandman won the the Jean Dalrymple Award last year for Best New Play.  On August 9th, it returns to the NY stage at The American Theatre of Actors.
Set in Hell's Kitchen, NY in 1979, at a time when the city was flat broke and overrun by gangs and guns, The Sandman tells the story of two beat cops moonlighting in construction who find themselves in the middle of a battle between a pub owner and the Irish mob.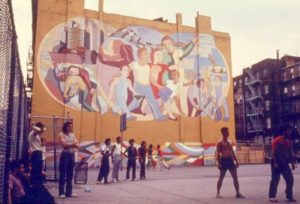 "The Sandman was inspired by my dad who was a police officer in Manhattan and also worked construction on the side," explains playwright Lynn Navarra, a Fordham University graduate who has written numerous plays including Leaving Lannahassee, produced by The American Theatre of Actors in January.   "I have always had a strong nostalgia for seventies New York City and the historic crime wave of the Westies, the notorious Irish mob that dominated Hell's Kitchen during that time."
In Navarra's gripping suspense tale, The Sandman is a pub owned and operated by Tommy Cassidy and his wife, Diane. After twenty-seven years, they decide to renovate the pub's dining room and hire Paul and Sal who, unbeknownst to them, are cops working construction to earn extra money.   At the same time, Tommy, no stranger to the Irish mob (although long out of it), is approached by a prominent member of the Westies and persuaded to do a felonious favor.  When Tommy is later betrayed by a once trusted friend who happens to know about the favor, Paul and Sal must decide whether to blow the whistle on Tommy or try to save him from certain death at the hands of the mob.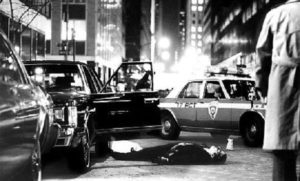 Navarra brilliantly creates intricate plot lines that put her characters to the test, trying to decide between what is morally right and wrong.
Ken Coughlin returns in the role of Tommy Cassidy and also directs the show. "From the casting to the sets, his expertise in all things theatre is invaluable," says Navarra.
Michael Bordwell and Ben Guralnik also return, playing the roles of police officers Paul and Sal. Rounding out the cast are AJ Converse, Meredith Flood Rust, Valerie O'Hara, Brady Richards and Dan Lane Williams.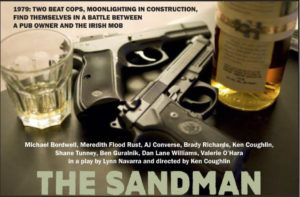 The Sandman performances are August 9 – 20 (Wed-Sat @ 8pm; Sun @ 3pm) at The American Theatre of Actors (314 West 54th Street).  Tickets are $20 (cash at the door).  For reservations, call 212.581.3044.