The gender-bending queer artist ALONE is out now with "Everything", a song he refers to as an ode to his Trans siblings.
"I want them to know that they are blessed, loved and perfect just the way they are," he says.  "(The song) is meant to be a bright and feel-good reminder that you already have everything you need to be happy and thrive."
ALONE was born Alon and raised in Israel, in a small coastal town called Herzliya. His father died in military action when he was three and a half years old. He grew up in a household of women, with only his mom and sister. His musical influences were Prince, Grace Jones, George Michael and Sylvester. "Growing up as a Queer kid who never fully fit in anywhere, seeing a Queer artist like Sylvester was a beacon of hope," ALONE reflects. "It made me feel like I wasn't alone, like there was a future for me and that there were others out there like me."
Upon moving to New York City, Alon changed his name to ALONE to reclaim the word; empowering its meaning from something sad and scary to independent and in control. "Being alone is one thing everyone experiences from time to time. There is beauty and strength-building in it. The binary concept that being alone is bad and being together is good is false. Both are equally important to our growth and well-being."
He originally wrote "Everything" as a love song to a guy he was dating.  "(He) had a fabulous life but couldn't stop complaining about everything," ALONE continues from his NYC home. "I wrote the song to try to convince him to see how good he had it and help him cultivate a spirit of gratitude."
During the song's production, the message grew larger than a simple love track. It became a proclamation for all to appreciate life regardless of unfavorable circumstances. "Joy is not dependent on external factors.  Right now, we are all as good, as well and as complete as we can ever hope to be — and therefore we are already, in fact, everything."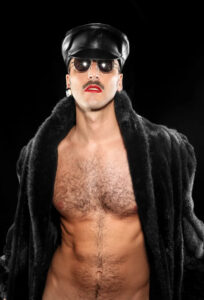 ALONE wrote the lyric, 'Opulence is a state of mind,' while sunbathing on the crumbling roof of an old house he was living in. "At the time, I was barely making rent and struggling to find work and ways to bring my music to life. I laid down a patch of Astro turf on that hot tar, covered it with a piece of leopard fabric, treated myself to a box of strawberries and felt like royalty."
The song's music video features some of the leading activists in the Black Trans Lives Matter Movement including Tahtianna Fermin, founder of Bridges 4 Life, an organization that serves Trans youth in the foster care system; Danni Gucci, founder of the #Wontberased campaign for Trans visibility; and Suburbia, a drag queen who has been featured on HBO Max's And Just Like That, and is the founder of the POC Collective.