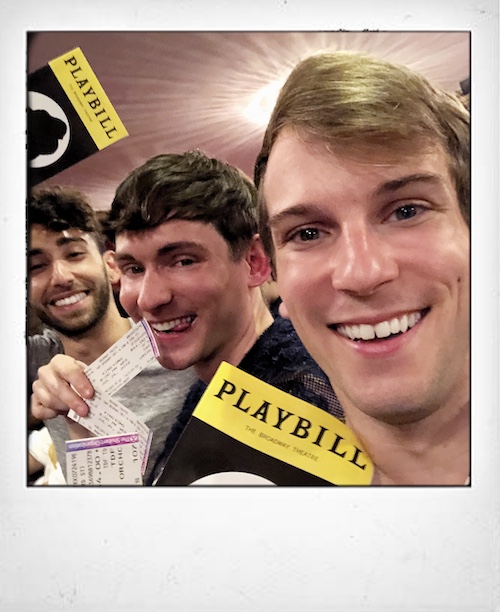 I love drama just as much as the next homosexual—and by drama, I mean the theatre. (Obviously.)

I saw my first Broadway show when I was 11 years old: My grandparents took me on a road trip from Iowa to New York (yes, a road trip), and my favorite part of the whole trip was getting to see Oklahoma! I loved everything about it: the costumes, the songs, and—yes—the drama of it all.

I even did some acting in school: I took advantage of every play and musical that Knoxville High School put on, and even booked some good roles in college. (Playing Bazzard in The Mystery of Edwin Drood was a highlight.)

Since moving to New York, I've seen my fair share of fabulous shows: Follies, Venus in Fur, Hamilton, Fiddler on the Roof and Book of Mormon, amongst my favorites. So, when my friend Giovanni asked if I wanted to go see King Kong before it closed, I bought tickets for my boyfriend and myself quicker than a giant monkey running through Skull Island.

I got dressed in a pair of linen dress pants and a navy lace t-shirt with 3D flowers on it. Dressing up a little for theatre is one of my favorite parts, a tradition that seemed mostly lost on all of the t-shirts and jeans that sat around me. (Of course, a phone went off at least twice during the show as well.) My boyfriend dressed more in character in a floral shirt and hat that looked ready for safari on Skull Island.

King Kong may have met mixed reviews, but I loved the experience. When you first see a 20-foot-tall gorilla come on the stage, weighing in at 2,000 pounds and operated by God knows how many puppeteers (not to mention three voodoo puppeteers in the voodoo box), you can't help but gasp out loud.

Christiani Pitts plays a strong Ann Darrow, stronger than we've seen before. She argues with filmmaker Carl Denham (played by Eric William Morris) that she can't play the "damsel in distress" because that's just not her. You go, girl.

There were giant monkeys; there were living vines; there were epic battles; and, of course, there's King Kong infamously climbing the Empire State Building. What more could you need from a musical? It might not top the 2005 movie, which makes me cry (every time!), but I loved every moment of the ride.

Nominated for three Tonys (Sound Design, Scenic Design and Lighting Design of a Musical), I would highly recommend grabbing tickets to King Kong at the Broadway Theatre before it closes on August 18. I might be returning to Skull Island once more myself.